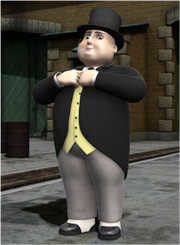 Sir Topham Hatt the Fat Controller is the man in charge of all the engines on the North Western Railway. He was The Manager of the Skarloey Railway before Mr. Percival took charge.
Appearances
Season 1 - Where's BoCo?, A Passenger Bus Once Again, The New Diesel Fuel, Repairing Old Slow Coach, Thomas and the Kitten, Dave the Diesel, The Funny Trick, A New Branch Line, Rosie and the Flying Kipper, Making Fun (mentioned), Flora's New Coach, Sodor Blackout and Hiro Goes Home.
Season 2 - Off to the Scrapyards, The Ironworks Diesels, Stuck in the Mud, Duncan's Predicament (mentioned), The Cement Works, Off to the Works, and Toby and Carol.
Season 3 - Thomas and the Twins, Flying Edward, Cranky V.S. Sodor, The Welsh Coal Hunt, Where is Sir Topham Hatt?, Worriful Whiff, Stealing Trains, George and Buster, Belle's First Train, Frozen Points, Hector the Ballast Hopper, Tornado the Lost Engine, and Percy and the Storm.
Season 4 - King of the Roads, A Blue Mountain Disaster!,  Thomas Does His Thing, and Henry Goes Out of Town.