The Dieselworks Manager
The Dieselworks Manager runs the Vicarstown Dieselworks.
Appearances
The Ffarquhar Quarry Manager 
This man runs the Ffarquhar Quarry
Appearances
The Bluebell Railway Controller
The Bluebell Railway controller sold
Stepney
 to the North Western Railway. He currently owns

Bluebell, Primrose, and a few other engines.
Appearences
Little Mix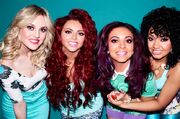 Little Mix is a real-life British Pop band. They came to visit Sodor in July 2011. Diesel wanted to take them, but after some events, he decided to let Stepney take them instead. 
Appearances
Weird Al Yankovic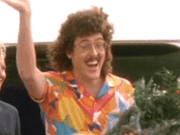 Weird Al Yankovic is a real-life American singer and stand up comedian. 
Appearances
The Ulfstead Barrow
Ulfstead Barrow is a yard foreman who likes to work at the yards around Knapford and Ulfstead. He was hired a few years ago after failing at getting attention as a painter and metal craftsman. He, however, keeps on doing these hobbies, hoping to be discovered. This can sometimes get him into trouble, as Scruff knows too well!!!
Appearances
The Wellsworth High School Students
These students attend Wellsworth High School, a new high school on Edward's branch line. They are seen in multiple episodes, but they play a huge role in their debut appearance, which is Season 7.
Appearances
Jim Gordon
Jim Gordon (b. 1998) is a student at Wellsworth High School. Nothing much is known about his personality other than he seems to be rude and obnoxious. (He had teased Alice about her car).
Appearances
Brooke Walker
Brooke Walker (b. 1998) is the cheerleading squad captain at Wellsworth High School. She is good friends with Alice. She was named after GordonHenryandJamesfan1992's younger sister, who's a squad captain at her university. 
Appearances
Dr. Janine
Dr. Janine is a doctor at the hospital who regularly rode on Murdoch's Train, but one day a little girl called Lucy broke her leg and Murdoch had to take her to the hospital because the ambulance had broken down. She is blonde with blue eyes.
Appearences
Lucy
Lucy was the little girl who broke her leg after falling out of a tree. it later turned out that she had not broken her leg but had fractured it. She had to be taken in by Murdoch when the ambulance broke down. She, along with her mum and Janine, later thanked Murdoch for his heroic deeds.
Appearances
Victoria Justice
Victoria (born Feb 1993) is a famous American singer who visited Sodor in the Season 9 episode George and the Guest.