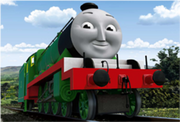 "Well well well, Henry I don't think you're pulling the Flying Kipper anymore. I think you're pulling the Crashing Kipper!"
- Bill and Ben, The Crashing Kipper, second season
Henry is a green tender engine.
Persona
Henry is usually friendly with the engines, but sometimes he can get vain. Henry has currently entered a friendly rivalry with James. He likes teasing others, as shown when he laughed at Diesel 10 when he was covered in Sodor Stinky Cheese and when he teased Belle for having water cannons. He seems to have love for nature. Henry has been beyond Sodor as well, when he went to America to prove that the biggest station was Union Station.
Appearences
Season 1 - Races, Bears, Thomas and the Kitten (cameo), Dave the Diesel. A New Branch Line, Rosie and the Flying Kipper, and Hiro Goes Home
Season 2 - Sodor Snowstorm, Hank Goes Fishing (mentioned), Stuck in the Mud (cameo), Stinky Cheese, Water Cannons, The Crashing Kipper, Tender Engines Don't Shunt!, and Sidney's First Christmas
Season 3 - Flying Edward (cameo), The Welsh Coal Hunt (mentioned), Where is Sir Topham Hatt?, Worriful Whiff (cameo), The Singing Woman, Tender Trouble, A Train for the Queen, Tornado the Lost Engine (cameo), The Great Boiler Ache Caper, and Percy and the Storm (cameo),
Season 4 - Runaway Koby, Quack!, Henry Goes Out of Town and Donald, Douglas and Caitlin (cameo)
Season 5 - Improper Engines, Gordon Gets Crushed (does not speak), Diesel and the Famous Visitors, Something Smells Fishy (does not speak), Diesel Domination, Wheels of Fortune, James and Flynn (mentioned), Whistles!, and "It's A Great Story After All....."
Gallery