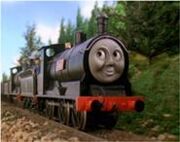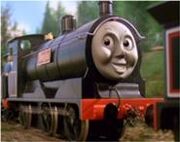 Donald and Douglas are Scottish twins.
Appearences
Season 1 - Oliver and the Snowstorm, A New Branch Line, Douglas and the Signal, and Sidney Helps Out
Season 2 - Sodor Snowstorm, The Ironworks Diesels, Trust Paxton, The Crashing Kipper (Donald; Douglas cameo) Tender Engines Don't Shunt!, and Sidney's First Christmas (cameo)
Season 4 - King of the Roads, Quack! (Douglas only), Thomas Does His Thing, Henry Goes Out of Town (cameo), and Donald, Douglas and Caitlin
Season 5 - Improper Engines (Donald only), Diesel Domination (cameo), Be On Your Guard!, Harvey and the Railway Inspectors (cameo), and "It's A Great Story After All....."
Season 6 - Forest Fire, Triple Trouble (Donald; Douglas cameo), 
They are likely to appear again.